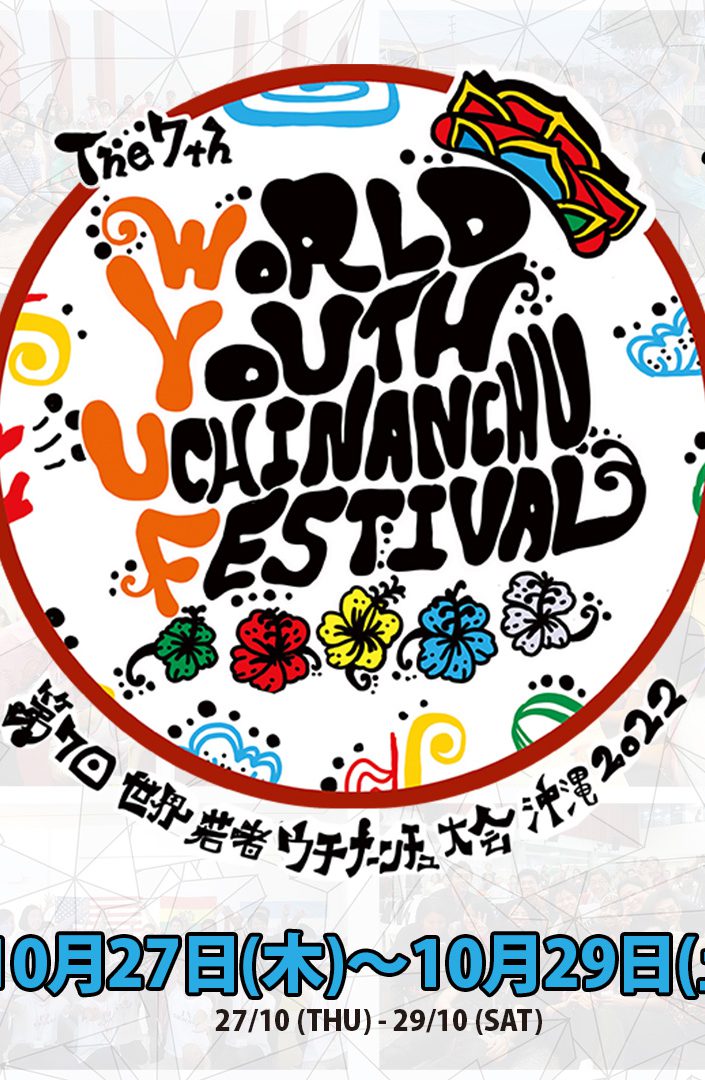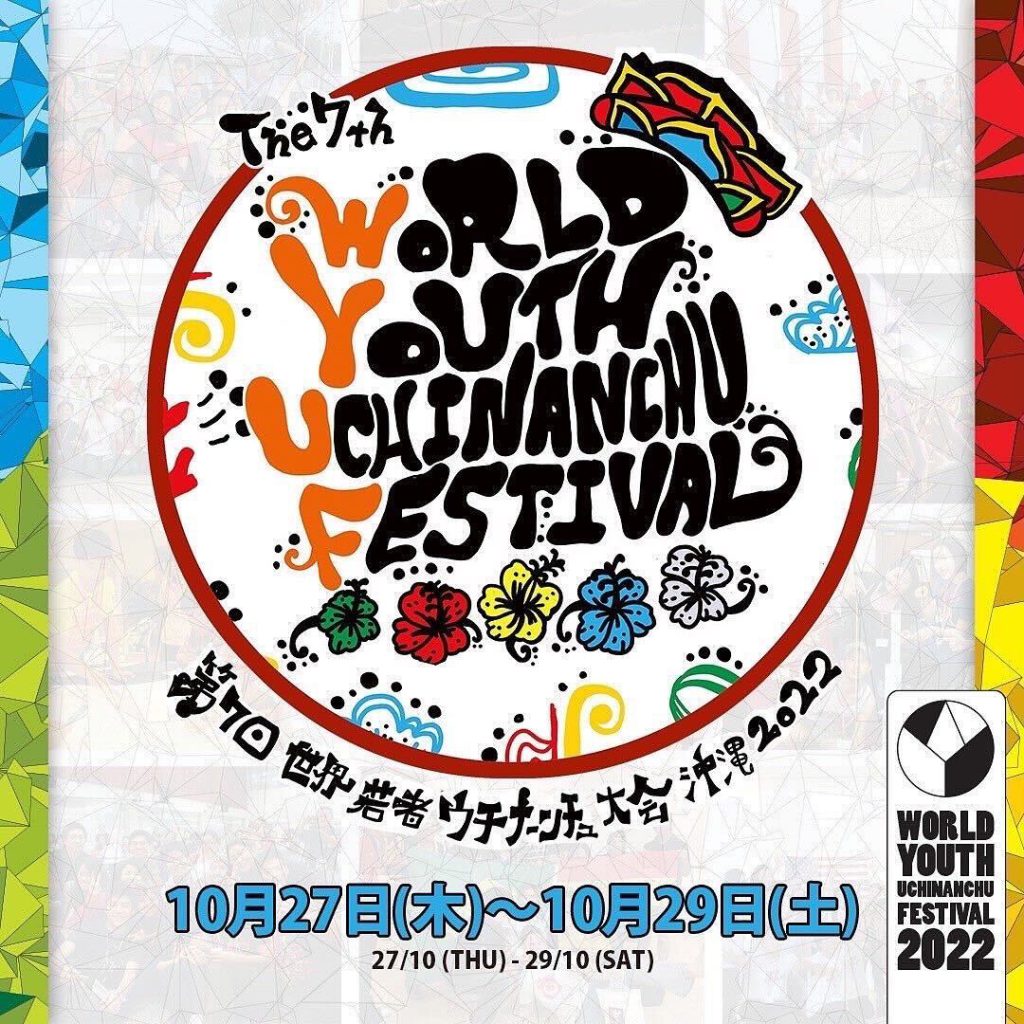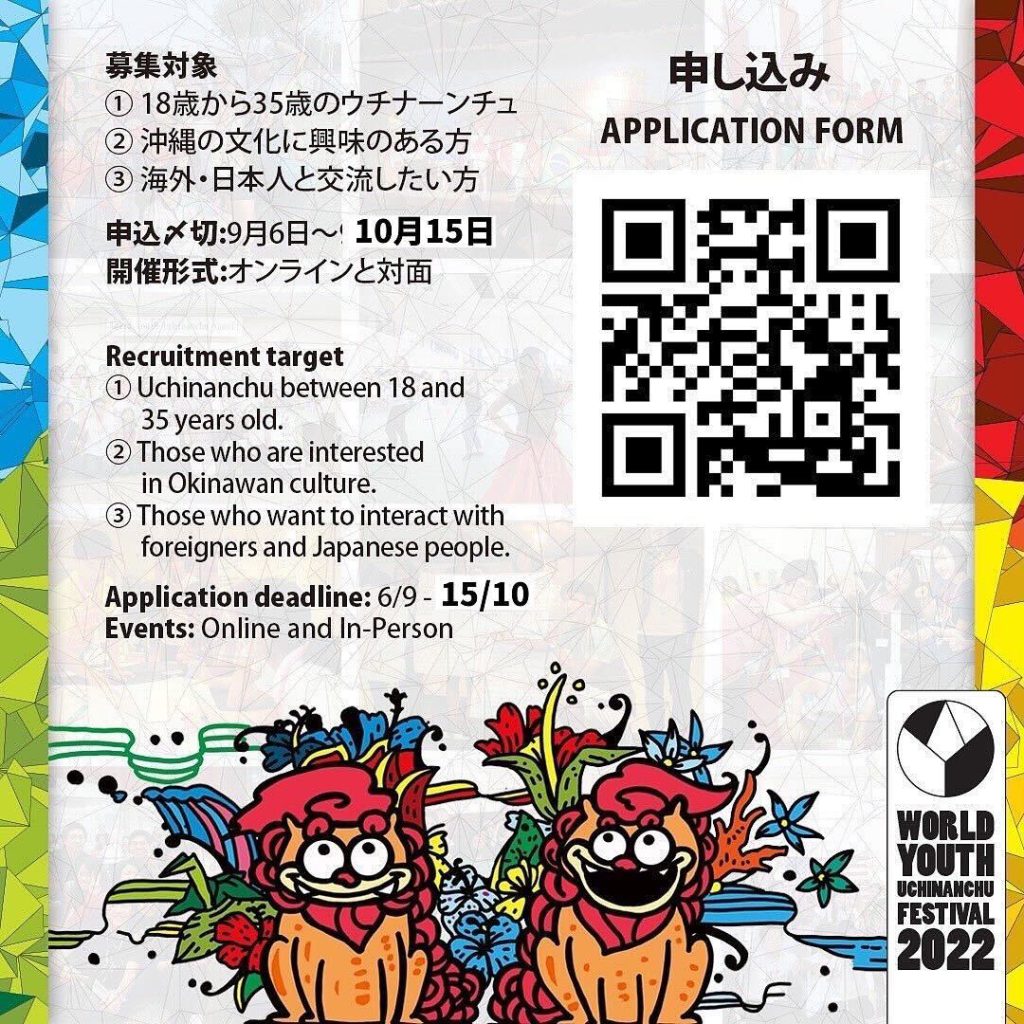 English
The WYUF (World Youth Uchinanchu Festival) is an event where the youth of Okinawa and the world connect with each other! Please apply as soon as possible, as we will close the application form when it reaches the maximum capacity of participants.
Programs:
Online Program (ZOOM)
10/27(Thu) 09:00~11:00 (Japan time): Family Histories: Introducing our Ojii and Obaa
In this online event, participants will share stories they have heard from their grandparents (war, immigration, reversion to Japan, etc.) and talk to each other about it! The purpose of the event is to get people interested in the history of people close to them and to learn about the history of Okinawa by hearing stories directly from the grandparents. Also, another goal is to be grateful and to empathize with others' feelings of pain, sadness, etc.
10/28(Fri) 09:00~11:00 (Japan time): Shichoson Pride
In the "Shichoson Pride", we will have Uchinanchus from overseas introduce the city, town, or village where they have their roots, and also we will have a chat where participants will show off their own Okinawa city, town, or village!
I hope participants will find friends from the same places they are from. We would also like to convey the charms of Okinawa to the Uchinanchu who cannot come to Okinawa due to the pandemic, and to expand their image of what Okinawa is like.
10/29(Sat) 09:00~11:00 (Japan time): Yuntakukai
On the last day, Uchinanchu from all over the world and those interested in Okinawa will have a yuntaku (chat) session. The theme will be identity, and how to preserve the culture.
In-person event
10/29(Sat) 14:00~17:00 (Japan time): Uchinanpic2022 (Venue to be determined in Okinawa)
In the "Uchinanpic 2022" in-person event, participants will interact with Uchinanchus from around the world while enjoying physical exercise. The program will include obstacle races and much more, so please look forward to it!
■Participation target
1) Uchinanchu between 18-35 years old
2) Those who are interested in Okinawan culture.
3) Those who are interested in international exchange.
■Deadline for registration
Tuesday, September 27 (Japan time)
■Remarks
(1) The Program is subject to change in consideration of the new coronavirus.
In consideration of the new coronavirus, the program content and schedule may be subject to change.
Please visit the following HP for more details as they are uploaded from time to time!
HP☞ https://wyua.okinawa/category/blog/
(2) Please note that video, photos, etc. taken during the tournament may be used in newspaper articles and publicity materials.
(3) About the in-person event on October 29
(3-1) We ask for your cooperation in taking measures against infectious diseases. (temperature check, alcohol disinfection, wearing masks, etc.)
(3-2) In case of injury due to an accident during the program, the organizer will provide first aid only and will not take any other responsibility.
(4) The main target age group for participation in this event is young people between 18 and 35 years old for the main program.
If you are under 18 years old or over 36 years old and wish to visit the program, please contact us. Please note that there are some programs we are unable to offer.
(5) When it gets close to the day of the event, a Zoom invitation link will be sent to your email address.If you still do not receive the email until three days before the event, please contact us at this email address (wyuashinka@gmail.com) or our social media.
Facebook:
https://www.facebook.com/WYUA.OKINAWA
Instagram:
https://www.instagram.com/wyua_okinawa/
■Contact us
(World Youth Uchinanchu Association)
The 7th World Youth Uchinanchu Festival Executive Committee
E-mail: wyuashinka@gmail.com